Albert Arnavielle 1928 Mountpelié...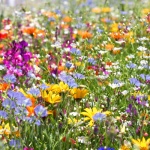 SALUT, PRINTEMS
ADIEU, PRINTEMS

Au Felibre T. Aubanel

Salut, salut, sesou poulido,
Salut, printems, douço sesou!
Deja la rose es espelido,
L'aucèl fai ausi sa cansou:
L'aureto brèsso lou grand pivou
Qu'en se clinant fai soun salut;
Dins lou cèl blu i'a pas un nivou,
Pas un nivou dins lou cèl blu.
Tout ris e pousso e canto e greio,
Nous vèn d'oundados de sentous,
Milo vouès carèssou l'aureio;
Lou parpaiou de sous poutous
Manjo la roso que l'embriaigo
E que deman, morto per el,
De l'aigagnau béura pos l'aigo,
S'espandira pus au sourel.
Sus un tapis d'èrbo verdeto
Lou rajoulet s'es escapa:
Aqui l'enfant e la fedeto,
Bèus inoucents, vènou trepa.
Lou pichot ris, la fedo bialo.
Oh! que soun bravets toutes dous!
La jouino maire, qu'aqui fialo,
Lous sono das noums lous pas dous...
Vèngue lou vèspre e sa fresquièiro,
E lèu veiren, dins cade oustau,
De poulits mourres à l'arquièiro,
E sus lou tauliè dau pourtau
S'assetaran galant, galano,
Que long-tems d'amour parlaran...
Entramen d'autres, dins la plano,
En cantant, barandelaran.
Quand lou sourel, ailai, trescolo
Darriès aquel serre embaima,
Soul, liuèn de la fourèjo colo,
Embé la que vòu vous aima,
Oh! coumo es dous, end'aquelo ouro,
Tout en parlant d'amour, toujour,
D'escouta l'angélus que plouro
Lou depart d'un tant poulit jour!
D'entendre, au founs de la campagno,
Lou troupèl que revèn tout las...
Fasès de castèls en Espagno,
Vous semblo que vous envoulas
Au cèl... ben aut sus la garrigo;
N'en voudrias jamai reveni...
De la terro avès l'enterigo,
Pièi, quand voste sounge a fini.
Mès lèu la niuè vous amantoulo,
E lou fres toumbo d'amoundaut:
Alor, d'amour l'amo sadoulo,
En tournant plan-plan vers l'oustau,
Dounas à Diéu uno pensado;
Car Diéu es à la fi de tout...
Vè, l'aucèl dor dins sa nisado,
O Teldeto, un darriè poutou!...
Salut, salut, sesou poulido,
Salut, printems, douço sesou!...
O flou! briho, siés espelido,
Aucèl, debano ta cansou;
Dins lou fieiage ris, aureto,
Lusert, béu toun rai de sourel,
Parpaiou, manjo ta floureto,
Parlas d'amour, urous parel!
Per iéu, qu'ai l'ivèr dedins l'amo,
La vido a pas de poulit tems,
E lou sourel a pos de flamo,
E pus de rosos lou printems!
Car à l'ange que iéu adore
Ièr diguère que mouririèi:
Ai soun amistanço de sorre;
Es pas aquelo que voudrièi!
E per moun amo que me raubo,
Elo me douno que soun cor...
Que baise l'orle de sa raubo,
Pièi, s'hou vòu, embrasse la mort!
De moun amo, à peno espelido,
Acò 's la darrièiro cansou...
Adiéu, printems, sesou poulido,
Adiéu, adiéu, douço sesou!...

XIV

Quand, lasso dau sagan, la vilo s'enmantello
De la niuè qu'es pleno d'esfrai;
Quand lou cèl, qu'es tiba coumo uno vasto tèlo,
Dessus Gardou que dor laisso pas d'uno estello,
Dins l'aigo escuro, clena 'n rai,
Alor m'envau, tout soul, rabala per carrièiro,
Espalanca coumo la Mort,
La doulou de moun cor qu'es à la niuè parièiro,
E, pale coumo lou qu'es à l'ouro darrièiro,
Me creirièn l'ange dau remors.
Pamens, es pa 'n remors acò que me rousigo.
Ai pas res à me reproucha;
Es l'amour, es l'amour que moun amo moussigo,
Es la serp de l'amour, e quand aqui bousigo,
D'aqui pode pas la coucha!
Quand d'unes an toujour de bonur l'amo pleno,
Es las lunos qu'ansin hou fan,
D'autres, soules, ai! las, pòrtou touto la peno...
Mès de-qu'ai fach, moun Diéu! que la malabouseno
N'en vogue tant emd'un enfant?
D'aima 'n ange acò 's dounc uno bèn grando fauto?
Es dounc un pecat sens perdou,
La santo envejo qu'ai d'ana de cauto-à-cauto
Vers aquel aujounet, per pausa sus sa gauto
Res qu'un soul e cande poutou?
Mès s'es mau de l'aima, lou tort d'aquelo causo
Es de tu que vèn, o moun Diéu!
Perqué l'as facho un jour tant poulido?... Es l'encauso
Que l'aime aquelo drolo!
Oh! moun esprit de-qu'auso
Juja'n ordre quand es lou tiéu?
Perdou, moun Diéu! penti, ço qu'ai dich hou retire.
Quand ta santo man me causis,
Es de benediciéus pulèu que déurièi dire;
De l'amour cande e vrai me mandes lou martire,
Bon Diéu dau Cèl, oh! gramecis!...
Darriès uno pensado encaro urous m'abrite,
Fièr de l'ounou qu'ai acampa;
Car dins moun long martire ai un triple merite:
Soufrisse; ai ges d'espuèr dau pres que m'amerite;
Elo hou saupra soulamen pa!...

XV

DINS LOU BOS

E m'enanave douçamen
Au founs dau bouscas vispre e negre...
E fins aqui veniè me segre
De moun amour lou pensamen.
Ero à l'ouro qu'es sourne encaro,
Mès que lou jour, preste à sourti,
De la terro fara parti
Ben lèu la ninè que la mascaro.
E iéu disièi: — O bos espés,
End'aquesto ouro, oh! que siés orre!
Coumo tu, moun amo, ta sorre,
De la niuè porto amai lou pes.
Perdu dins toun escuresino,
Moun pèd pourriè, dins tous bartas,
Caupisa mai d'un serpatas
Au lengou que poun e brounzino.
Iéu, dins moun cor à mita mort,
Sente amai quicon que boulego,
Que lou rousigo e se desplego
Coumo hou fai la serp dau remors.
De tous aubres, quand l'auro bramo,
Oh! qu'es tristo la vouès que sort!
Sus iéu boufo lou marrit sort:
Gingoulo també ma pauro amo!
Mès toun dòu duro pas toujour;
Laisso que la niuè s'avaligue,
O bos! que la rose espeligue
As rais amourous d'aquel jour;
E souto ta croto, bressado
Per l'aureto, tout chanjara,
Lèu l'aucelet s'aigrejara
D'un riéu-chiéu-chiéu dins sa nisado.
Lou sourel, entre tous brancas,
S'espouscara 'n jauno poussièiro
Que béura la flou bouscassièiro,
Pièi à toun oumbro, o viel bouscas,
Lous droles menaran las jouves:
Sus l'erbo que trepejaran
L'un l'autre s'acampejaran,
Fouligauds, à l'entour das rouves.
Deja de ta niuè que me plais,
Vè, blanquejo la negro raubo;
Vas èstre lèu, o bos! à l'aubo,
Pu bèu que co qu'aro siés laid!...
Iéu siéi toujour la mèmo causo,
E lou mati retrais au sèr;
Pa 'no lusido, pa 'n esper!
E d'aquel mau quau n'es l'encauso?
Quau n'es l'encauso? Es un enfant,
Es uno drolo tant poulido
Que l'aubo dau jour, e qu'óublido
Que de soun cor lou miéune a fam!

XVI

UNO NIUE D'AVOUST

Te n'en remembres pas d'aquelo niuè d'aqui:
Perço que me pretoco as lou cor arouqui;
Mès iéu, d'acò malaut, enca me n'en souvène,
Sus aquel souveni de-countùnio revène...
S'ensannousi, moun cor sort d'aquel pensamen,
Es per ié tourna mai dins un pichot moumen:
Mai que, dins l'espinas, quand de la flou se garo,
Lou parpaiou s'estripo, i revèn lèu encaro,
Lou reloge angouissous escampavo un per un,
Coumo un long capelet desgruna grun per grun,
Lous douge crids darriès que lou jour que raufello
Trais, au moumen que nai la journado nouvello.
Sus un sèti qu'es long, miè-couchats toutes dous,
Laissavian varaia, dins un raive ben dous,
Nosto amo qu'amoundaut de bonur embriaigado,
Bressado dins l'èr linde ounte s'èro negado,
Mandavo au Diéu dau Cèl lou cantico e l'encens.
Ansin lous encensiés, que dous enfants ensen
Brandissou dins la glèiso ounte lous cors s'acàmpou,
Fan mounta'mbé lou fum lous cants qu'aqui s'escàmpou.
E cresian de resta, dins lou nivou, toujour;
Disian: — De lendeman n'a ges aqueste jour!
Més coumo cabussè nosto amo de mounte èro?
Coumo nous retrouvèn, paures, dessus la terro?
Hou saupeguèn pas!... Mès, coumo iéu, saves be
Qu'ère sarra de tu; te souvendras també
Que ma man arrapè ta man qu'èro jalado...
Te diguère pas que, tant-lèu itèstre coulado,
Courriguè per moun cors un tant fort fresimen,
Que cujère, acò 's vrai, n'en mouri quasimen;
E perqué també, quand venguères à me dire:
— Tremoles, de qu'as dounc? alorquante martire!
Iéu te respoundeguère: — Oh! ièr avèn laissa
La fenèstro drouvido, e dempièi a baissa
La calou que fasiè souto la niuè qu'es frejo...
E jangle, que lou fre que m'arrapo m'aigrejo.
Vouguère te rescondre, ère sai-que mouquet,
D'aquel grand fresimen lou juste per-de-que.
Ah! s'avièi saupegu, quand moun cor se sarravo
Dau tiéu, que dins un got de fèu el s'amouravo!
Ah! s'avièi saupegu que tu m'aimaves pa,
Me sarièi be garda, ta man, de l'arrapa!
Mès tu, tu qu'hou saviès, faliè pas m'hou rescondre!
Iéu devigne adeja ço que me vas respondre:
Quand vas veire raja mas legremos, ai! las!
Enfant, michant enfant, trairas un cacalas;
Pièi diras que sièi fol, ou malaut, que pantaise...
Escouto un darriè mot, se vos, qu'après me taise:
Lou qu'a rauba la flou, quand pièi n'a ben senti
Lou perfum de soun se, que per el es sourti,
La trempo, quand la vei mouri de passiduro,
Dins l'aigo e fai qu'ansin sa vido un pau mai duro.
Coumo acò, tu també, m'as pres un jour moun cor
Qu'aro bialo e se plan coumo un agnèl regord,
Desmaira... N'as tira ço que lou fasiè viéure,
E se sentis mouri, se seco coumo un siéure.
Perqu'es dich e perqué déu pas se n'escapa,
Dins la font de tous ièls laisso-lou se trempa!
Gramecis! te dirai; car moun cor que s'amousso,
Quand l'espinches mouri, trovo la mort ben douço!...

XVII

LOU SERRE

Lou tems es siau, la luno douno:
Fai bo sus lou serre, l'autouno.
Vène, o ma migo, zóu! nous tenguent per la man,
Escalaren ensèn, amount, sus Sant-German.
Contro lous rocs, que fan la routo escalabrouso,
S'as pòu d'ensannousi tous pèds, frèulo amourouso,
Oh! vai, l'amour rènd fort: entre-bras te prendrai,
E, coumo un enfantet, moun cor, te pourtarai.
Lou tems es siau, la luno douno:
Fai bo sus lou serre, l'autouno.
Coumo iéu as pas vist que tout es triste aici?
De l'aubre desfieia toumbo lou fru passi;
Lou paure peitrinèl toumbo ounte lou fru toumbo,
Deja l'ivèr, la mort ensèn drièbou lus toumbo!
Tout vai mouri, la terro es pas qu'un espitau...
Nautres que voulèn viéure, escalen amoundaut.
Lou tems es siau, la luno douno:
Fai bo sus lou serre, l'autouno.
Escalen amoundaut ounte oublidaren tout,
La vido e sous trigos; car dins un long poutou
Nous faren toutes dous uno vido nouvello.
La d'aici mes sa fi dins lous bes qu'entavello;
Mès end'aquel bonur un jour fau dire adiéu...
Lou nostre a ges de fi, nou, que sa fi 's en Diéu.
Lou tems es siau, la luno douno:
Fai bo sus lou serre, l'autouno.
Ohl vèjo-lou coucha coumo un gigant boussu,
Lou serre; un nivou blanc cencho soun negre su:
A sous pèses dins l'oumbro e soun front dins l'esclaire,
E bousigo lou cèl de soun mourre, e soun flaire
Das astres fai fugi lou trelusent troupèl,
E soun cors brulo; vé, coumo fumo sa pèl!
Lou tems es siau, la luno douno:
Fai bo sus lou serre, l'autouno.
E quand saren amount veiras qu'acò 's poulit!
Sentiras de bonur toun amo trefouli.
Entramen que dourmis la vilasso arredudo
Per lous tràfis dau jour, dins un sounge perdudo,
Nosto amo voulara, sus l'alo de l'amour,
Dins l'èr linde, embaima, jusqu'à l'aubo dau jour.
Lou tems es siau, la luno douno:
Fai bo sus lou serre, l'autouno.
I'a 'nd' un endré que save, i sièi ana souvent
Lou cadabre ajassa, disou, d'un vièl couvent;
L'iel devigno, en cercant, mounte èro la capello,
Que de-vers lou sourel drouvissiè sa parpello.
L'avièn basti tant naut, aquel mounastiè vièl,
Sai-que per que saguèsse, aqui, pu près dau cèl...
Lou tems es siau. la luno douno:
Fai bo sus lou serre, l'autouno.
Es end'aquel endré, moun ange, que saren.
Sus quauco negro berlo ensen nous pausaren,
E pièi nous sanlaren toutes dous dins toun chalo,
Se de l'Ausero vèn lou vent pounchu que jalo
E dins las venos boujo, aboundous e nouvèl,
Lou sang, la sabo que fariè frucha 'n gavèl.
Lou tems es siau, la luno douno:
Fai bo sus lou serre, l'autouno.
Mès qu'espingueje, l'auro, o 'stello! de-vers tu
La rispo cevenolo aura ges de vertu:
Lous rais de tous bèus ièls soun uno caudo flamo;
E tu, moun amour soul escaufara toun amo;
E pièi quand nous diren: — T'aime! s'arrestara
De gingoula, lou vent, e nous escoutara.
Lou tems es siau, la luno douno:
Fai bo sus lou serre, l'autouno.
E ma gento amourouso à ma voues s'aigrejè,
E soun cors, tèndre fais, à moun bras se penjè:
Dins lou cros de ma man l'aurièi pourtado, o perlo!
E plan-plan escalèn. Pausats sus uno berlo
De l' ancian mounastiè dau serre Sant-German
Lèu pounguèn dire ensen, en nous tenguent la man:
Lou tems es siau, la luno douno:
Fai bo sus lou serre, l'autouno.